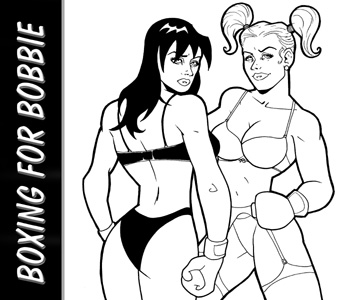 Susie thought she had a good thing with Bobbie. Aparently Barbara thought it was a good thing too, and managed to show her college spirit to Bobbie in his bed. Susie was crushed, but it didn't help things that Barbara challenged her to fight for him, something Bobbie was anxious to see. Susie had her reasons for not wanting to fight, but Barbara kept pushing. You'll find out this secret as the lovely gals duke it out in gloves and underwear in the unofficial college ring as these sexy coeds go...



BOXING FOR BOBBIE!

32 panels by VALDEZ - $15.00

Also an 8 page PDF file for printing!