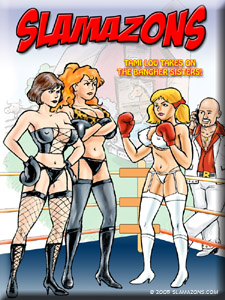 The gals don't get any pretty, any sexier, any stronger, than those born and raised in rural America! But being born there doesn't mean you want to STAY there, and such is the case with foxy boxing wannabe TAMI LOU, whose life takes an abrupt turn when BYRON, booking agent for the SLAMAZONS, has a flat tire on Tami Lou's farm!

A little flirting, a right cross, and a repaired tire later, Tami Lou finds herself in a TRYOUT match, facing a couple of tough competitors in TOMRE and CALI BANGHER! Why a handicap boxing match was selected is a mystery, but having the girls duke it out in their underwear is NOT!

Art by O'Trevor 25 jpeg images, 4.1 MB Zipped file

Settle in for a night of HOT foxy boxing action in...

"FARM GIRL FOXY"